Services

Hotel Roc Illetas
Designed to surprise, including the most demanding guests, the services of the Hotel Roc Illetas offer you the chance to complete your holidays in Majorca with the best attentions and proposals: gardens, outdoor swimming pools, restaurant, bars, solarium, gym with indoor heated pool, sauna, jacuzzi, parking, lounges... even a SPA.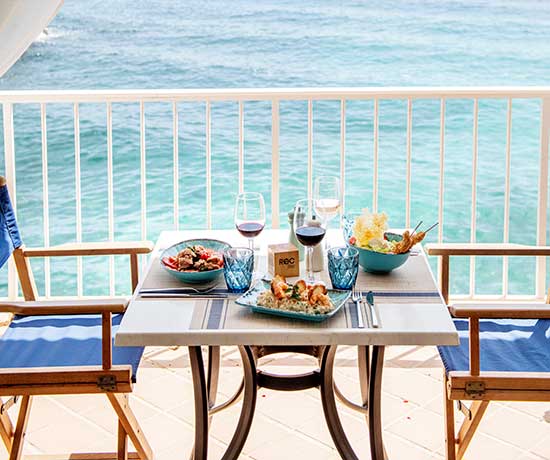 El "Ancla" Bar
Take the time to relax with the stunning views of our beautiful enclave, while having lunch or an aperitif looking out to the Mediterranean Sea. Located at the entrance to the sea, our pool bar serves an assortment of a la carte dishes at lunch time in an informal environment.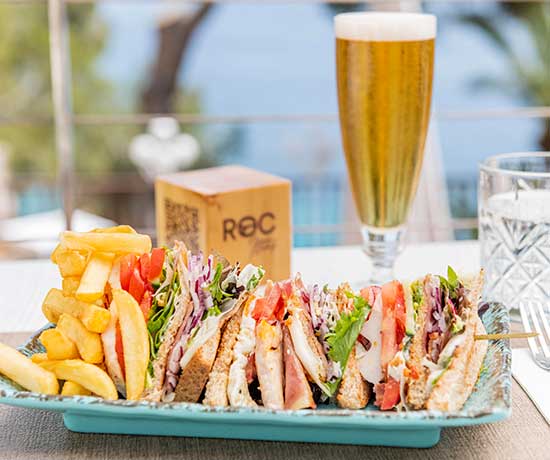 Snack Bar "Las Velas"
Would you like to savor a delicious appetizer while enjoying the incredible sea views? Then come to our "Terraza Las Velas," located on the upper floors, where we have a delightful and varied menu of appetizers and drinks available. With the best live music, this is the perfect place to enjoy a cocktail or drink of the highest quality, located on a fabulous terrace where the views of the sunset are incomparable.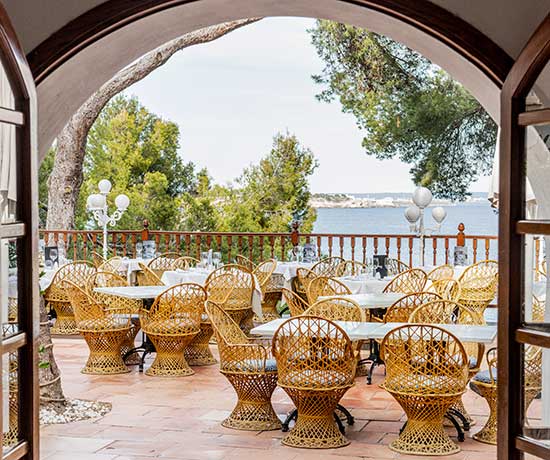 Buffet Restaurant
Freshly prepared, refined and typical Mallorcan, Spanish and international dishes are the order of the day in our splendid buffet restaurant with a show cooking service. Gentlemen are required to wear long trousers at dinner.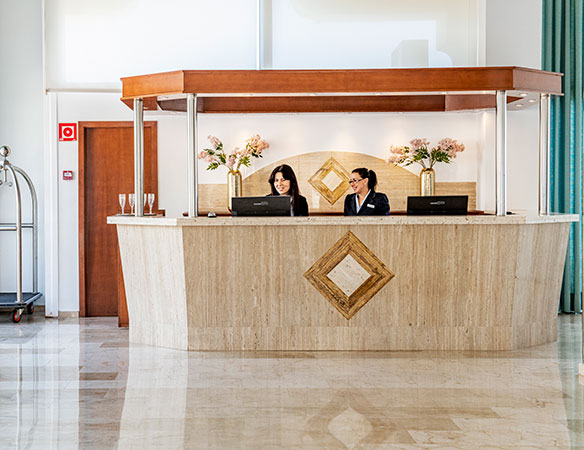 Reception services
Available 24h - Check In 14h - Check Out 12h - Multilingual staff - Room service menu available - Luggage storage - Mail - Tourist information - Excursion booking - Car rental - Shuttle service (on request at the hotel) - Bike rental - Diving center.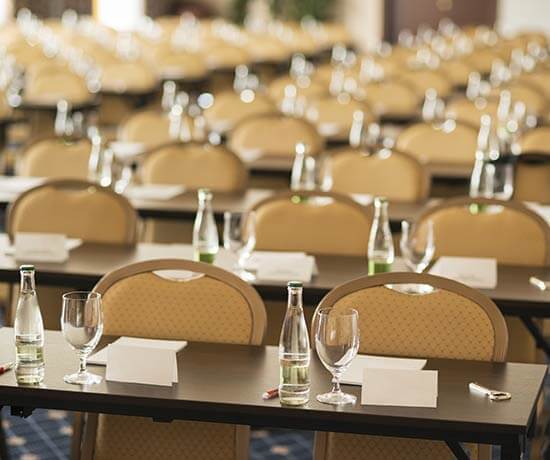 Lounges
• Formentor Room: 71 m²; maximum capacity of 50 people with tables arranged in rows, and 30 people with tables arranged in a U shape
• Valldemosa Room: 27 m²; maximum capacity of 14 people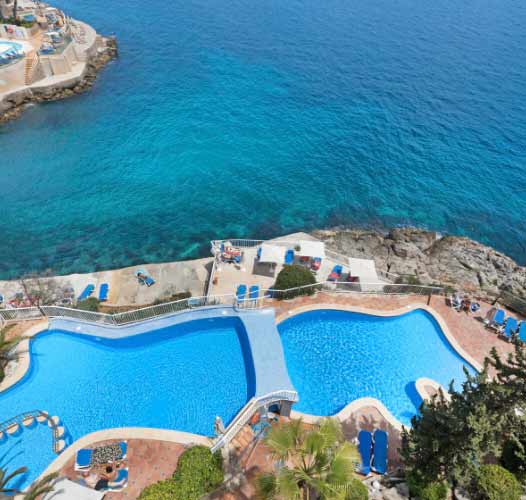 Direct access to the sea
Do you fancy a refreshing swim in the sea? Our hotel provides direct access to the sea through our amazing outdoor facilities. Exclusive for guests.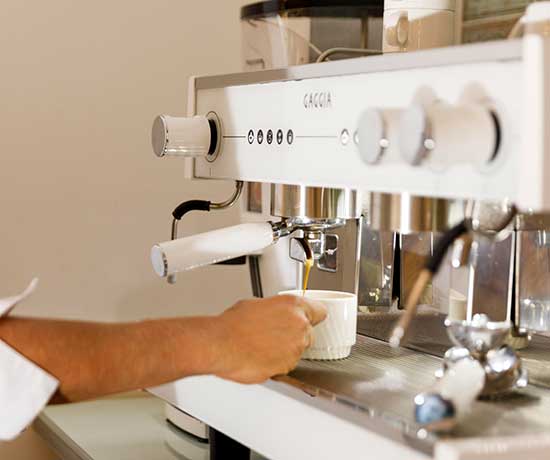 Breakfasts
We offer you a magnificent breakfast adapted to your taste: coffee and freshly made natural juices, smothies, healthy options...It also has a Mallorcan corner where you can enjoy a breakfast with local products. Timetable: from 8:00h to 11:00h.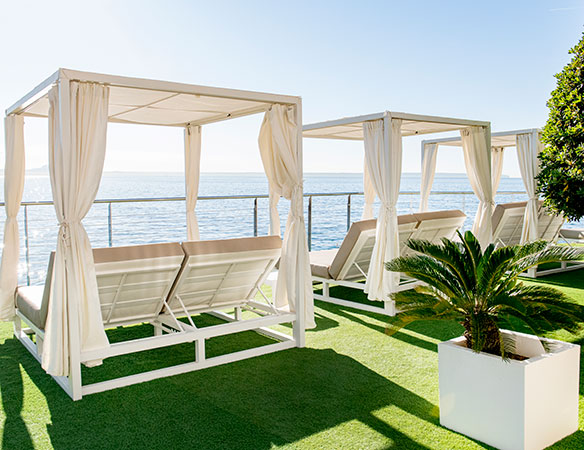 Bali beds
Enjoy incredible views from our Bali beds. The best sunset in front of the sea can be experienced at Hotel Roc Illetas. With extra charge.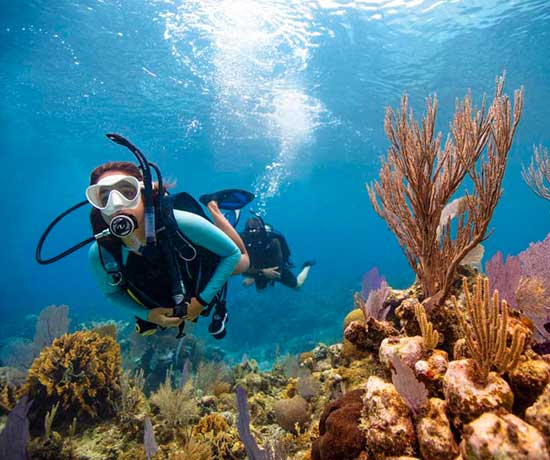 Scuba
Have you ever wondered what it's like to breathe underwater? If you are not sure about starting a SCUBA course, you can do a "try dive" first.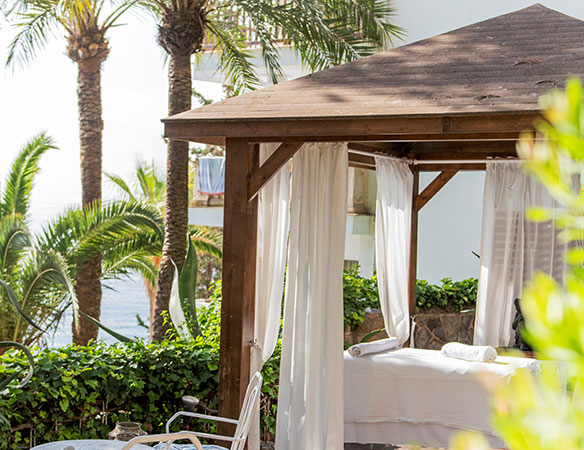 Massages
Try out this unique relaxation and well being experience at our magnificent massage pergola, located in an exclusive enclave in the garden with superb views of the sea. A peaceful spot with total privacy, where you will be able to enjoy a relaxing massage while listening to the soothing sound of the sea.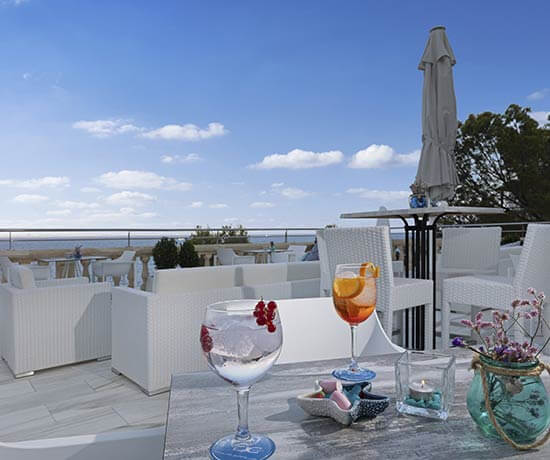 Chill Out Miramar
Enjoy the best live music in our Chill Out "Miramar", the perfect place to try out first-rate cocktails and mixes, located on a fabulous terrace from which the sunsets and the moon are incomparable.
Rent a Car
Do you need transport to get to the hotel or to move around the island? Look no further, we offer you a better price for being a Roc Hotels customer!
Free Transfer
From Hotel Roc Illetas: Thurdays, fridays, saturdays and sundays 19:30h p.m. First stop: Puerto Portals Last stop: Palma de Mallorca.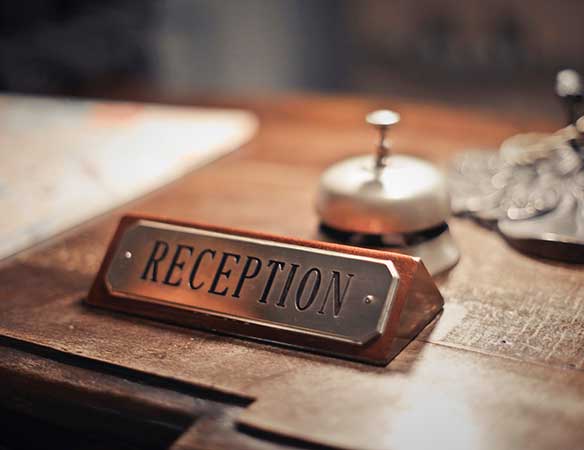 Other services
Meeting and event rooms
Gym
Bali beds (subject to an additional charge)
Towels with a deposit - in the pool and sunbathing area
Free hammocks and parasols
Private car park (€ 15 fee)
Free wi-fi throughout the complex
Pool towels (€ 15 deposit)
Safe deposit box
TV room
Laundry service (additional charge)
Conference rooms
Pillow menu
Cot (on request)
Mini bar
Sauna
Kiosk store
Games room with table tennis and snooker